At the beginning of 2016, I remember that every time I went back home, I was kinda shocked of seeing most of my photos documented the tragic fate of the children of Aleppo who remain, in my eyes, the saddest victims of the war. Indeed, they often had their hobbies and their dreams disrupted, not to mention that the war also deprived too many of them of their lives.
In a way, that kind of photos was not really planned out. I just used to pick this up being always listening to my feelings. Despite that was the most painful thing I have ever seen and definitely, if there's no camera there was absolutely no way I can ever describe this. My camera is the only ally, It takes away all my fears and convinces me that it's the only possible tool I could use to translate both my appalling and happy feelings.
Moreover, I consider that my father's death was a big turning point in my images, it was also necessary that I act, that I make myself useful and that I can testify. I wanted to show the truth to the world, and very quickly, I had this reflex to photograph. I grabbed my camera, and I did not let it go.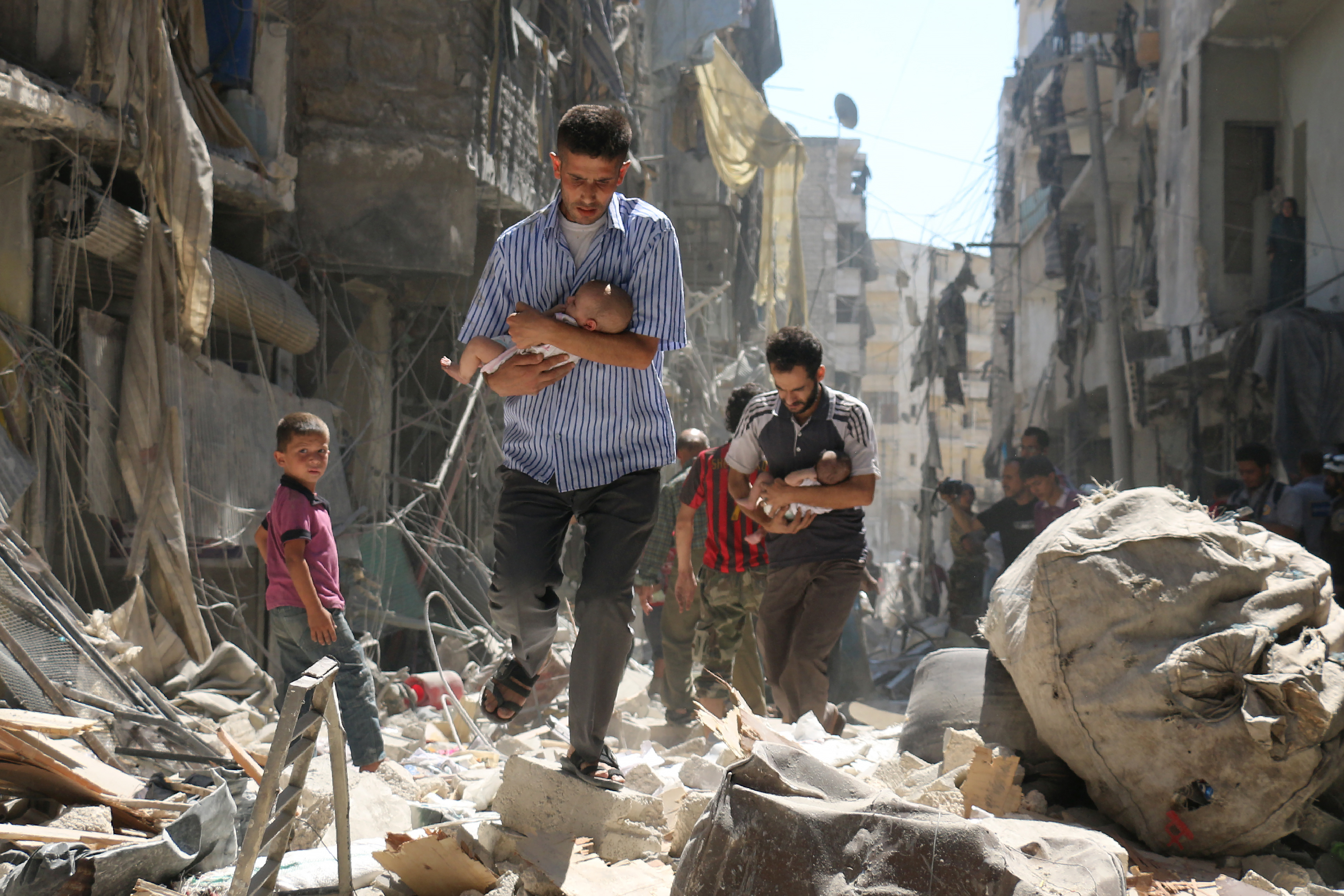 Aleppo, once Syria's largest city and the country's financial and industrial center, was a key battleground in the war between forces loyal to President Bashar al-Assad and rebels who wanted to overthrow him. For four years the city had been roughly divided in half, with the opposition controlling the east and the government the west. As fighting intensified in 2016, the rebels became increasingly besieged. Of the roughly 250,000 people who remained trapped in eastern Aleppo, around 100,000 were children. Besieged civilians faced severe food and fuel shortages, and basic infrastructure and healthcare facilities were obliterated.
Despite several international attempts at negotiating a ceasefire and allowing civilians passage out of eastern Aleppo, fighting escalated and people remained. Civil defense workers said civilians were mistrustful of government offers of safe passage; the government said rebels were preventing people from leaving. Some were simply reluctant to abandon their homes and property. On 15 December the warring sides reached a ceasefire deal, and on 22 December, following days of evacuations, the Syrian government announced that it had taken control of the city.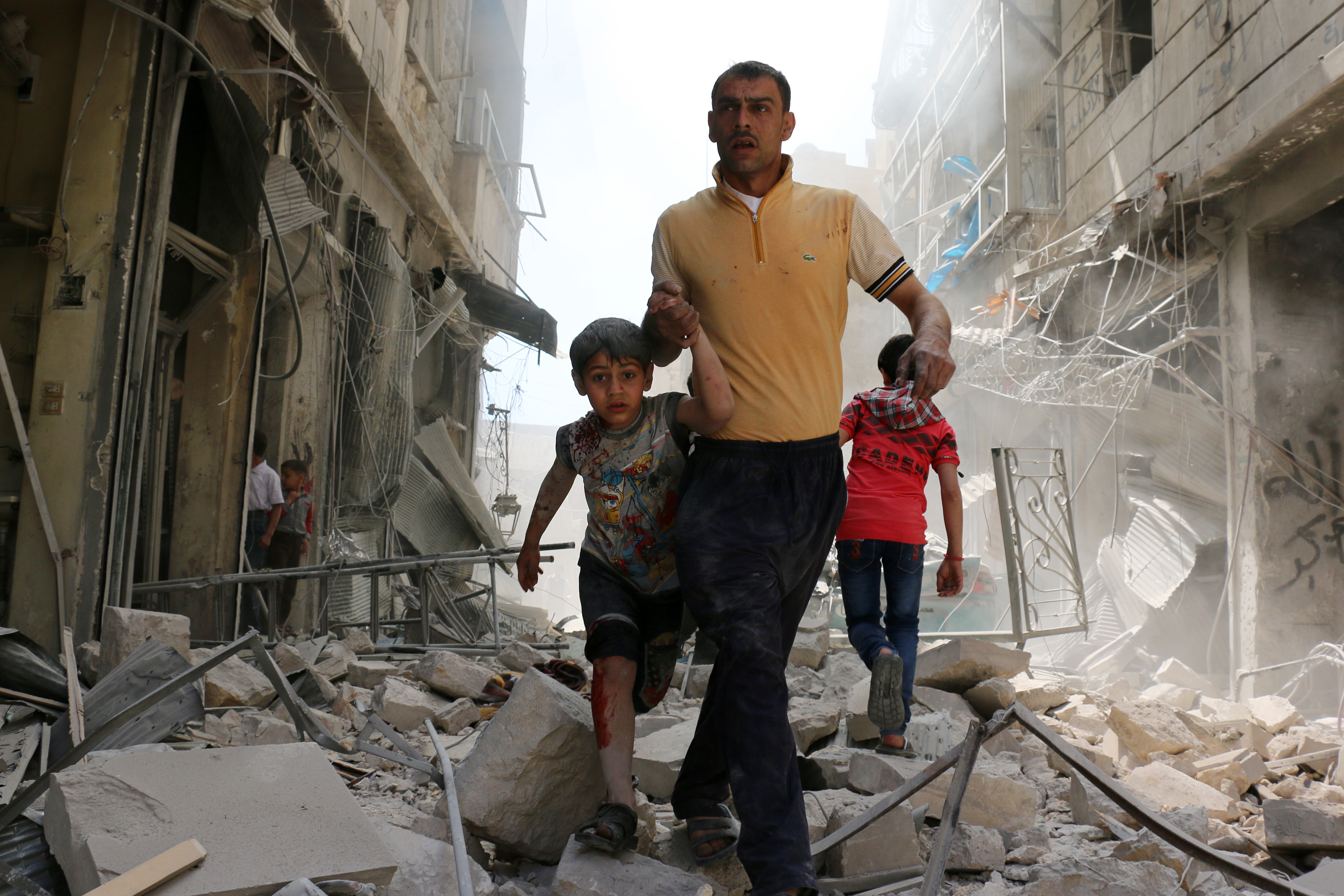 22 April, 2016

A man and boy evacuate an area in the rebel-held Hayy Aqyul neighborhood of Aleppo, following an airstrike.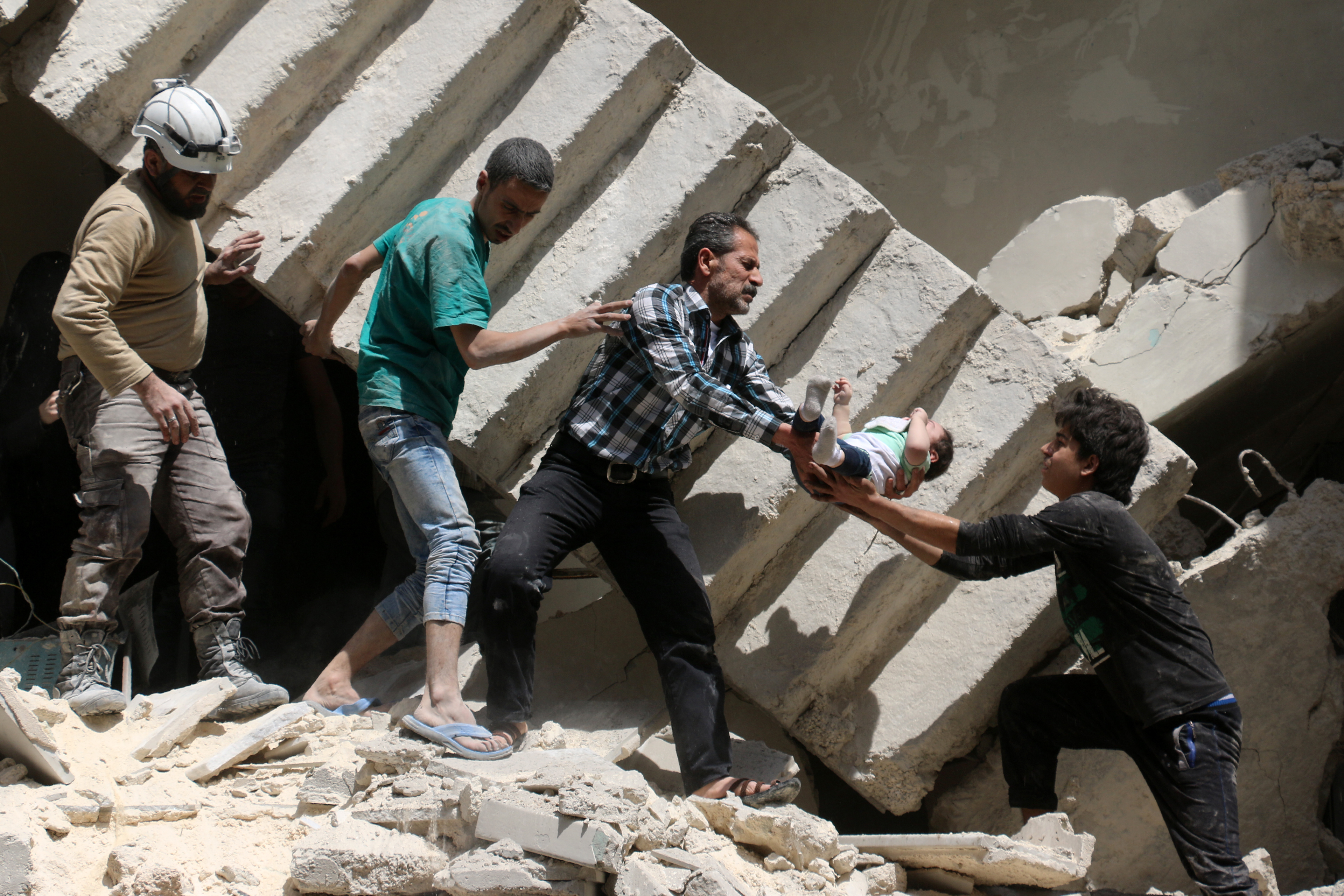 28 April, 2016

Rescuers remove a baby from the rubble of a destroyed building in the al-Kalasa neighborhood.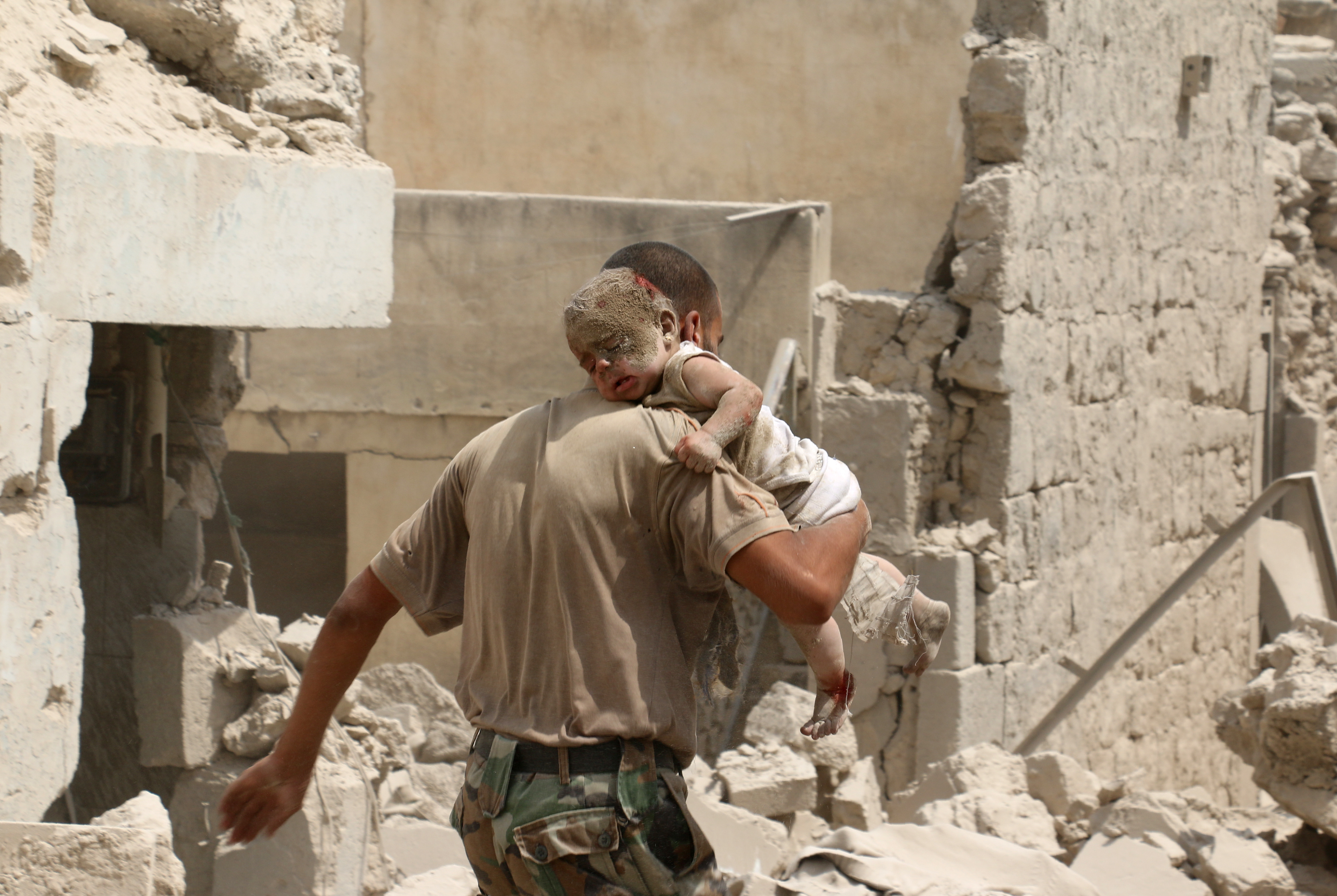 25 August, 2016

A man carries a wounded baby from the rubble, following a reported barrel-bomb attack on the rebel-held Bab al-Nairab neighborhood of Aleppo.
​​​​​​​
27 August, 2016

A White Helmet civil defense volunteer evacuates a dead baby and a wounded child in the Maadi district of eastern Aleppo.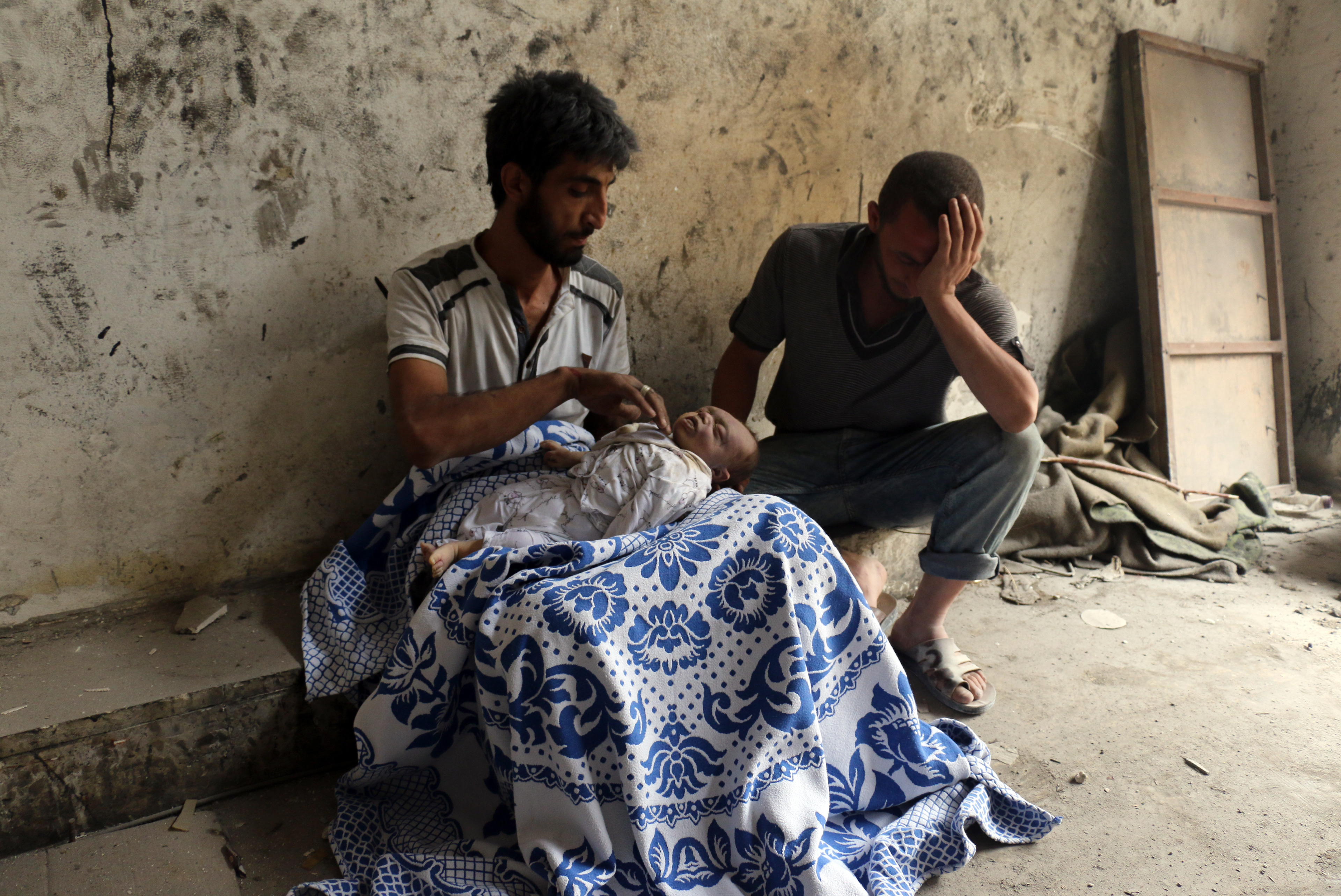 23 September, 2016

Men mourn over the body of a baby, following bombardment of the al-Marja neighborhood.
04 October, 2016

A member of the civil defense volunteer group known as the White Helmets holds the body of a child, pulled from the rubble following an airstrike on the rebel-held neighborhood of Karm Homad in Aleppo.
24 July, 2016

A man holds the body of his child after it was rescued from under the rubble of buildings destroyed in an airstrike on the rebel-held neighborhood of al-Marjah in Aleppo.
24 November, 2016

Syrian civil defense volunteers, known as the White Helmets, rescue a boy from the rubble following a reported barrel-bomb attack on the Bab al-Nairab neighborhood of Aleppo.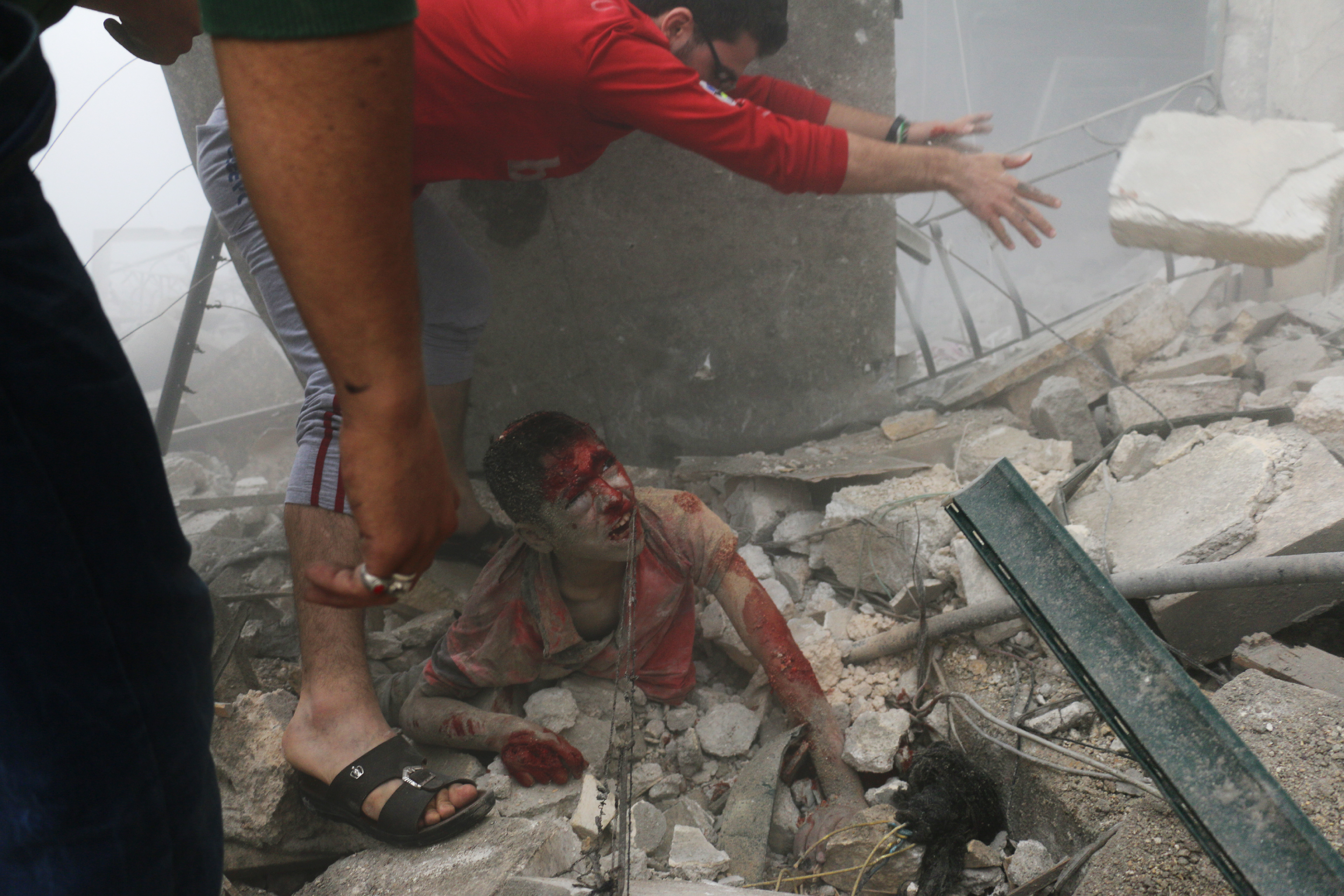 10 September, 2016

Men remove a victim from the rubble in the Bustan al-Qasr neighborhood, following an airstrike.